Attractions
---
A setting of natural beauty, a charm that makes people smile—A visit to Charlevoix will convince you that water and land truly couldn't have picked a finer place to meet. Live a memory you'll cherish forever. When looking beyond the business of the day, the Charlevoix area provides countless opportunities for fun in the sun, awe amid vibrant fall colors, the thrill of outdoor snow sports and the stillness of woodland wanderings in spring. Each season provides a unique offering of activities that benefit residents and visitors of all ages. A love for the water and knowing your neighbor are common denominators for residents and resorters of various backgrounds, interests and stages of life. Despite their differences, these resorters and residents create a fulfilling sense of community. Visitors – whether experiencing Charlevoix for the first or 50th time—easily become part of the social blend. There's just something about Charlevoix. Something that says Welcome! Life is Grand!


The Lighthouse

Charlevoix's South Pier Lighthouse has long been a treasured landmark to boaters seeking safe passage between Lake Michigan, the Pine River Channel, Round Lake and Lake Charlevoix. It is also a premier location to watch the spectacular sunsets over Lake Michigan. The first lighthouse to be built at the entrance to the Pine River was actually located at the end of the north pier. This pyramidal wooden tower served from 1885 to 1914, when it was transferred to the end of the south pier and replaced with the current steel tower in 1948. In 2005, the lighthouse, deemed excess by the Coast Guard, was offered at no cost to eligible entities. After the review process, the National Park Service awarded the lighthouse to the City of Charlevoix in 2008. In August of 2009, the light, which had been painted white in recent decades, was returned to its original bright red coloring.

East Park


The crown jewel of the north, East Park sits in the heart of downtown Charlevoix. Renovated in 2008, the park is beautifully kept and the ideal location for a family picnic or community event. Nestled between the downtown shopping district and the Round Lake Yacht basin, East Park features the Odmark Music Pavilion where the Summer Concert Series takes place. Bring a towel because children of all ages will enjoy cooling off in the Fountain of Youth, a 30' diameter heated interactive water fountain with multiple water nozzles and choreographed lighting and music. Additionally, the East Park Trout Habitat is a fully functioning trout ecosystem. The habitat is designed to replicate the conditions found in a northern Michigan trout stream.

The Bridge


Charlevoix is home to a double-leaf bascule bridge, which is dedicated as a memorial to 22 local men who died during World War II. Built in 1949, this 44 foot steel-mesh structure spans the Pine River Channel. The channel, which was dredged in 1870, connects Lake Michigan to Lake Charlevoix via Round Lake. The bridge carries US-31 (Bridge Street) in downtown Charlevoix. Gates and flashing signals warn pedestrians and motorists that the bridge is opening to allow clearance for watercraft taller than 17'. The bridge opens throughout the busy summer season on the half-hour and hour.

Beaches

Charlevoix is well known for its beaches and the accolades are richly deserved. The city has four beaches, two on lakes Charlevoix and Michigan, as well as a State Park beach. The Lake Michigan beaches (Lake Michig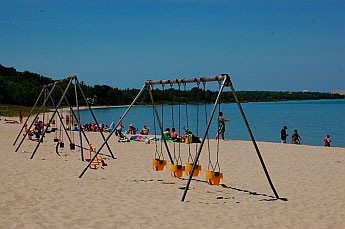 an, Mount McSauba, Fisherman's Island) offer a perfect opportunity to find the official State of Michigan stone, the Petoskey Stone. This stone can only be found in the Little Traverse Bay region of northern Michigan.

Michigan Beach offers white sand, good stone hunting; wooded trails and children's play equipment. There is also a concession cafe, picnic areas, and restrooms. There are no lifeguards. This beach is a short walk from downtown, along Park Avenue or the Pine River Channel. It is also an excellent location to view the lighthouse and the stunning sunsets over Lake Michigan.

Depot Beach on Lake Charlevoix is adjacent to the old train depot, which is now an historical museum. This beach usually has warmer water than Lake Michigan and the waves are
calmer. Depot Beach is located at the end of Mercer Boulevard off U.S. 31 and has playground equipment, restrooms and picnic areas.There are no lifeguards.

Ferry Beach is also located on Lake Charlevoix. The gently sloping sandy swimming area is a popular beach for parents and their children. Ferry Beach offers no lifeguards, but there is playground equipment, picnic areas, and restrooms. The beach can be reached by taking Stover Road east off of M-66, or Belvedere Avenue from downtown.

Mount McSauba is a natural area with rolling dunes that culminate in a wide sandy beach on Lake Michigan shoreline. Behind the dunes is a series of well-kept trails through a beautiful canopied wooded area. There are no lifeguards or facili
ties.

Fisherman's Island State Park offers seven more miles of Lake Michigan public beach. It is located south of Charlevoix on Bells Bay Road. In addition to the beach, the park offers trails through a beautiful 3,400-acre forest. There are no lifeguards.
And don't forget that swimming is available year round at the CHARLEVOIX AREA COMMUNITY POOL.


Little Traverse Wheelway

Pump up your tires and hit the trail! The Little Traverse Wheelway is a 26 mile, non-motorized paved path that extends from Charlevoix
to Harbor Springs. It has been the topic of news features, and it continues to be a regional draw for vacationers and residents. This stretch of paved trail extends from Charlevoix to Petoskey to Harbor Springs and draws thousands of walkers, bikers and in-line skaters each year, with some of the most breathtaking scenery to accompany them. This trail offers a unique boardwalk bridging a wetland area rich with wildlife, and direct water access at several points along the Lake Michigan shoreline, including two MDOT roadside parks that are perfect for a picnic or scenic resting spot. Spearheaded by The Top of Michigan Trails Council and host to local and national rides, the free trail has been an effort of several area organizations and municipalities. for more info, visit www.trailscouncil.org. Trail Map | Bike Rentals

Mt. McSauba Recreation Area

North Point Nature Preserve For hiking, cross-country skiing, nature studies, nature photography or just a quiet commune with the wilderness, several protected natural areas near Charlevoix are difficult to match. A 28-acre dune and wooded area at North Point features wood chipped trails and wooden viewing platforms where one can sit and watch the waves roll in on Lake Michigan. Mount McSauba is the highest of the steep sand dunes north of Charlevoix and the centerpiece of a 50-acre recreation complex owned and operated by the city. In the summer, Mount McSauba offers a city-operated day camp for boys and girls.?


Winter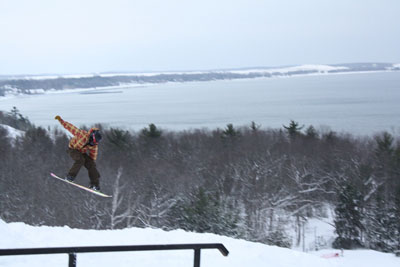 Park:
Skiing - Snowboarding - Terrain Park - Skating Rink - Sledding Hill - Snowshoeing - Groomed and Un-groomed XC Trails - Rental equipment - Snack Bar! The City of Charlevoix offers one of the few municipal ski facilities left in Michigan. Mt. McSauba became a municipal ski resort in 1956 and is ranked as one of the top three small ski areas in the United States. Mt. McSauba is perfect for the beginner or intermediate skier with a sprinkling of slopes for the more advanced downhill skier. It offers six runs, four rope tows, lighted skiing and a free-lighted sledding hill. Snowboarders, snowbladers and snowshoers will enjoy a day spent at Mt. McSauba. Equipment is available for rental. Group lessons and private lessons are also available. Skier or not, the view from atop Mt. McSauba is spectacular!


Castle Farms


Castle Farms is one of Northern Michigan's hidden gems and we'd love for you to discover it! The host of many elegant weddings, exciting corporate & charity events and visiting tourists - Castle Farms has something to offer everyone. Wandering the grounds of the Castle and surrounding gardens on a self-guided tour is fun for all ages. Walk through the Hedge Maze and up the tower bridge to get an aerial view of Michigan's Largest Outdoor Model Railroad. Feed the ducks and trout in the Reflection Pond and explore the Enchanted Forest. Looking for a more in-depth experience? Immerse yourself in history with a guided tour, offered May-October. Knowledgeable guides share stores and take you deeper into the lore and history of this renown property. After your visit, stop in the Castle Gift Shop to find unique and whimsical gifts. Castle Farms is open every day, 9am to 5pm, May-October and open Monday-Saturday, 10am to 4pm, November-April. For extra fun, check out our calendar of events for 2018. www.castlefarms.com.
Charlevoix Historical Society

Harsha House Museum was built in 1891 by Charlevoix businessman and community leader Horace S. Harsha. His granddaughter Ann Harsha donated the Victorian-style house to the Society in 1978
to be used as a museum. Attractions include: 3 Victorian Period Rooms, 10,000 Historic Photos, Local History Artifacts in Displays, 1917 Working Player Piano, Local Oral and Family History Collections, Local History Research Materials, Original Hemingway Marriage License, and more.

Railroad Depot Museum is owned and operated by the Charlevoix Historical Society, a State and National Historic Site located next to Depot Beach. Mr. & Mrs. Robert Pew donated the railroad station to the society in June 1992 on the 100th anniversary of the arrival of the first passenger train in Charlevoix. The Charlevoix Area Garden Clubs have developed a Heritage Garden on the grounds based on historic garden principles and utilizing local cutting wherever possible.
150 Years Of Photography
This exhibit is a continuum of six important Charlevoix professional photographers who left their work behind, and often to each other, from the 1880's up to the 1960's, concluding with the work of Bob Miles.

Golf Courses

The Charlevoix area offers golf courses ranging from the modest to the challenging, all in picturesque settings and en
joyable to play. From a nine hole municipal course designed by the renowned architect Willie Watson and identified as one of the earliest regulation courses in the United States, to the historic Belvedere Club, which has hosted the Michigan Amateur State Championship 39 times and the Golf Association of Michigan Senior Men's Amateur Championship in 2004. There are many courses to choose from including The Belvedere Golf Club, Charlevoix Golf Club, Antrim Dells Public Golf Course, Charlevoix Golf & Country Club, and Dunmaglas Golf Course.